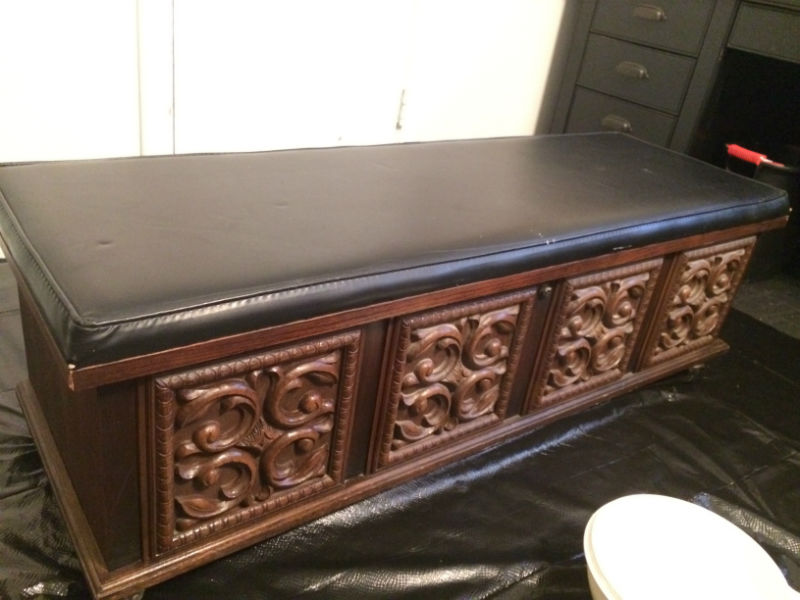 There are times when it just makes sense to make your own chalk paint. Last week I went home for a visit in the small town where I grew up, Brownfield, TX. I knew that my mom wanted me to help her transform her old cedar chest while I was there and I was looking forward to it, although I was a little apprehensive knowing I wouldn't have access to all my supplies and tools in my paint studio.
Trying to be as prepared as possible I packed my favorite paint brushes, a wax brush, and a small can of wax, thinking those items would be the hardest to find in Brownfield. Mom felt certain we could find chalk paint somewhere. Well, the local hardware store where she thought she had seen the paint did not have any after all. Armed with a wall hanging we wanted to use for inspiration to find the right colors for her cedar chest, my brain went to a backup plan I didn't know I would need – to make our own chalk paint.
I have never done this, but have read about it in multiple places. I knew the basic ingredients we would need, but googled it again just to be sure. Water-based latex paint, plaster of paris, and water. There are other ways to make chalk paint, but this seemed to be the simplest and I was certain we could get those items at this hardware store.
So, after locating the plaster of paris, off we went to the paint section to find the colors we wanted. The piece turned out PERFECT for her room! I could not be happier with the colors we chose. See photos of the progress, inspiration, and final product at the bottom of this post.
Prior to this experience, I was so terrified of trying to make my own chalk paint, until I was forced to do so in this situation. Now I want to share with you three reasons why I may be making this my go-to paint!
It is so easy!! The recipe is simple: one part plaster of paris to three parts paint and water to mix. First I mixed the plaster of paris with water to make a smooth paste. Then I added the paint and mixed it all together. Super easy!! The coverage was great and you can add more paint or water to make the paint thicker or thinner depending on how you are using it. (Note: you can also do this with pre-mixed chalk paint.)
The color options are endless. There have been times when a client wanted a particular color and I would find the closest possible options through existing chalk paint lines. Fortunately, it has always worked out, but the more custom finishes I do for clients I'm finding it sometimes challenging to find the perfect color from the chalk paints that exist and mixing colors just isn't my thing (yet.) 😉 Being able to make my own chalk paint allows me to take a piece of material, a painting, a pillow or any form of inspiration from the client with me to the paint store and find the perfect color without being restricted by the existing chalk paint line colors.
It is much cheaper. You can purchase a 4 lb carton of plaster of paris for $7 at Lowes that will last a REALLY long time if you are using it solely for mixing chalk paint. To purchase a 1 qt. can of Behr paint at Home Depot costs around $15. Compared to $32-$35 for a 1 qt. can of pre-mixed chalk paint this is a HUGE savings!
I would love to hear from you if you have experimented with making your own chalk paint. Or maybe I've just convinced you to try it for the first time. 😉 Let me know how your project turns out if you try it!
---
---