Are you considering painting your furniture white? If so, these tips may be a good place for you to start. Many people think that painting a piece of furniture white is the simplest thing to do. But the truth is that painting with white paint can have some of the biggest challenges.
White furniture is ever so popular and will probably never go out of style. It goes well in almost any space, it's neutral and it's elegant. Many of the custom jobs I do for my clients are transforming their existing furniture into something white and beautiful. I also get tons of questions from followers about what paint/topcoat I recommend for a durable, non-yellowing white finish.
So here are my best tips for painting furniture white that I will share with you from my experience.
My Tips For Painting Furniture White
Always, always, always prime your surface. This is especially true if you are painting a vintage piece of furniture, or a newer piece of furniture that has had years of furniture polish making it slick and oily. (Priming, of course, happens after you have washed the surface well with soap and water). If there are any stains or tannins that are going to rear their ugly head, they will most definitely do so through white paint. Priming first with at least two coats of primer will save you a lot of time, headache, and paint! I am going to say that you should do this even if you are using the fabulous brands of paint that I also love to use that say no prep, sanding, or priming needed.
Stipple your first coat if using a brush, or my personal preference is to use a roller instead. It is tough to get good coverage on that first coat with white paint. Stippling is a process in which you take your paint brush and dab the paint on with the end of your brush. It creates a sort of texture for the next coat to grab on to (a round chalk paint brush is best for this.) If you were to just brush on the first coat like you normally would, you'll find that the more you brush, the paint is just moving around and not covering the surface very well. Stippling will help with that. I prefer to simply roll on white paint. A roller has the same effect as stippling and it is much faster. Using one of these techniques for your first coat may save you some paint with fewer coats needed.
Plan on using more paint than you would need if you were using a darker color. The fact is that white paint just doesn't cover as well as the darker colors. Even with the suggestions above, you should plan to do at least three coats of white paint. With darker colors you can almost always get away with two coats, sometimes one, depending upon the paint. So when you are planning for how much white paint you will need for your project, be sure to count on using a little extra compared to what you would need for a darker color.
My favorite topcoat for a white paint finish is General Finishes Flat Out Flat topcoat. It is the one topcoat I trust with my white finishes to keep them just as beautiful as they are before the topcoat goes on. Crisp, clean white with no yellowing. It is a matte finish comparable to the look and feel of a wax finish. If you want some sheen or gloss to your finish, you can try General Finishes High Performance Top Coat which comes in Flat, Satin, Semi-Gloss, and Gloss sheens. Be forewarned that the more gloss or shine in the topcoat, the tougher it is to get a smooth finish due to the reflectiveness of the sheen showing the imperfections.
Finally, I will share with you my favorite white paints I have used so far. I really only have two go-to paints when I have a client who wants something done in white. The first is from Heirloom Traditions and the color is called Irish Creme. I like this color because it is a beautiful shade of white that doesn't have any brown tint to it. If anything, it leans a little gray in terms of the base hue which just translates into a really pretty pure white. I like to use this paint when I have plans to distress the piece I'm painting because the Heirloom Traditions paints distress really easily.The second white paint I like to use is from General Finishes Milk Paint and it is called Antique White. This color has a tiny bit of cream tone in it. I like to use this paint when someone wants a smooth white finish with no distressing because to me it has a more finished look and feel before you even add the top coat. A top coat is still a good idea, but it feels a little more durable to me and so I like it for a solid, non-distressed look.
Note: Links in this post are affiliate links and I receive a small compensation when you purchase product via these 
links. Thank you for supporting my blog!
Product Links
I have rounded up Amazon links to the products I like to use to make them easy for you to find and purchase if you want to try them.
I hope these tips are helpful to you. If you have questions about your project, I would love to hear from you and I'm happy to help if I can. Also, feel free to add your own tips in the comments if there is something you have learned from your own experience of painting with white paint that might be helpful to others. I'll leave you with some photos of pieces I've painted in white using the tips I shared here. Thanks for stopping by and happy creating!
Subscribe to my blog here and get my FREE list of my favorite paint products in your inbox, including the Irish Creme paint color I mentioned in this project!

Pin this to save it for later!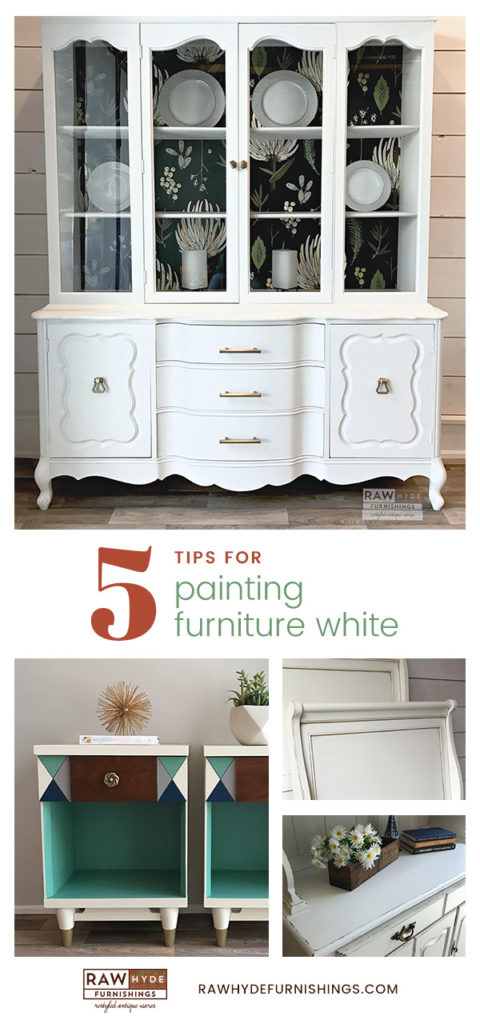 ---
---