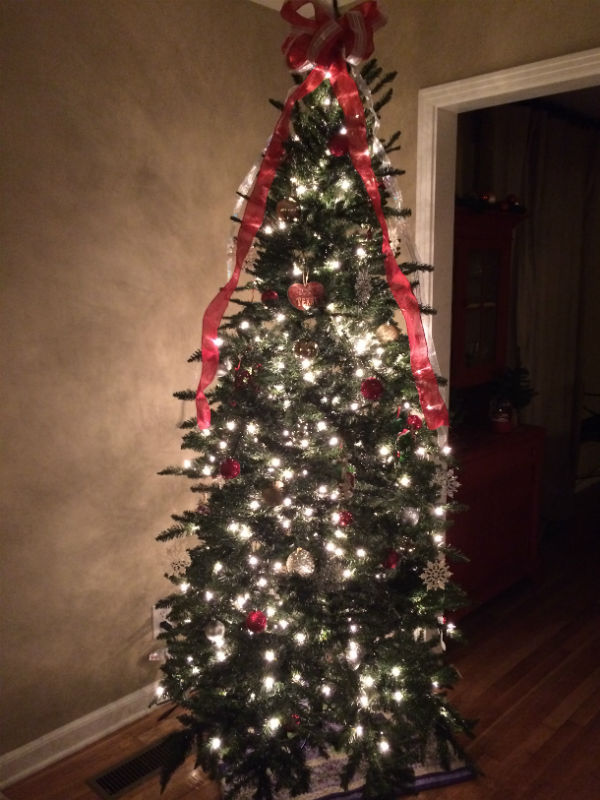 I hope this finds you all anticipating with joy the time with family and friends this holiday season brings. There are so many things to love about this time of year. The change in weather, the beautiful leaves on the trees, the anticipation of seeing snow for the first time this season (depending on what part of the country you are in), joy on children's faces as they anticipate the gifts they've requested from Santa, fall scents and baking, turkey dinners, the list goes on and on.
For some of us, Thanksgiving and Christmas go hand in hand. And for others, it is preferable to celebrate one before moving on to the other. I am in the former group, and this is my list of reasons for starting the Christmas celebration early. Yes, before Thanksgiving. (If you are in the group of people who are adamantly against decorating for Christmas or listening to Christmas tunes before Thanksgiving, hang with me. There may be something for you too.)
You Want To: Really this should be reason enough. However, I totally understand the outside pressures from family and friends who are against hanging stockings before we've been thankful for turkey. Keep reading.
Time: For the time you spend decorating, the time you get to enjoy the fruits of your labor shouldn't be limited to a short four weeks. When I think about waiting until after Thanksgiving to start putting out my Christmas decor, I am almost inclined to not put it out at all when I realize that in four short weeks I'll be putting it all away again. Give yourself time to really enjoy the sights and sounds you like to surround yourself with this time of year.

Christmas Music: What other time of year can you enjoy hearing 30 different versions of the same exact song? I mean, hearing "White Christmas" sung by everyone from Bing Crosby to Lady Antebellum and Michael W. Smith is pure joy every time I hear it. And again I say, how can you possibly hear all the Christmas music you want to enjoy in just four short weeks? A dear friend used to start listening to Christmas music on November 1 without fail, and she was not apologetic about it. And I love that. So guess when I started listening to Christmas music this year…yep, November 1. And I'm not sorry.
Thanksgiving Guests: You are hosting Thanksgiving in your home. What host doesn't want their home to feel inviting and warm and cozy and emit scents and sights of the holidays? In my opinion, there is nothing more inviting and pleasant than to sit down with family for Thanksgiving dinner with the glow of a Christmas tree in the background, reminding us of the rest of the season that is to come.

Joy: Something about the Christmas season brings us great joy. Why should we rob ourselves or others of leaning into that joy a little early? It takes a lot of energy to think about or tell others why they shouldn't be decorating early for Christmas. Also, by holding your tongue in regards to others' desires to decorate early, you give yourself the freedom to change your own mind should the Christmas spirit strike you early one of these years and YOU get the urge to turn on Christmas music, bake cookies, and start hanging tinsel and lights.
What harm does it do?: Really, who or what is it hurting to put out your Christmas decorations early? Or to turn on your Christmas music when the mood strikes? Before you say or think something like, "we need to be thankful first, before moving on to the sparkle season" (that's what our friend and pastor likes to call it), keep reading.
Celebrating Christmas Early Doesn't Make Thanksgiving Null And Void: Why is it that we sometimes feel like Thanksgiving gets the shaft because we decided to decorate for Christmas early? I don't think that is the case at all. Why not look at it instead, as being thankful for Christmas? I don't say that to be funny or sarcastic. When I think of what Christmas means, that God in heaven loved us so much that he provided the ultimate sacrifice for us, I cannot forget to be thankful. You may be thinking I have my holidays confused. Yes, the actual sacrifice of God's only Son, Jesus, is celebrated at Easter, but Christmas is the beginning of the journey. When Jesus Christ was born to Mary and Joseph in a manger in Bethlehem, it was only the beginning of a beautiful story of love for each and every one of us. So I am thankful to celebrate the birth of the babe in a manger, and I think it's ok to begin celebrating early and adding to our surroundings extra reminders of one of the greatest gifts for which we should be thankful, and the reason for which we celebrate Christmas – Jesus Christ.
Now, I hope you are able to set aside any unnecessary plans for this weekend, and make plans instead to turn on some Christmas music, make some hot cocoa, and grab those Christmas decorations to start celebrating Christmas early!
I would love to see your Christmas decor photos. Share them in the comments below or on my Facebook or Instagram pages! Happy Thanksgiving and Merry Christmas. 🙂
---
---