Well, here we are in the middle of fall. Can you believe it?! Before you know it we'll be traveling to be with family or gathering guests in our home to celebrate a season of gratitude. If you're like me you like to make sure your home is in tip top shape for holiday guests, with decorations in all the right places and ample entertaining space. Do you need permission to splurge a little bit to create your ideal entertaining space? Consider it granted! (Sometimes it just takes a little nudge from someone to say it's ok, right?) 🙂
A China Hutch Painted Furniture Makeover
Since we're full steam ahead into fall now, I wanted to share with you the colors I used on this china hutch painted furniture makeover. It was inspired by the first glimpse I had of a photo in a magazine of pumpkins. You know, the orange and green, and white, and oh-so-fun-to-decorate-with pumpkins! So I chose these tones as my color palette and this is the result.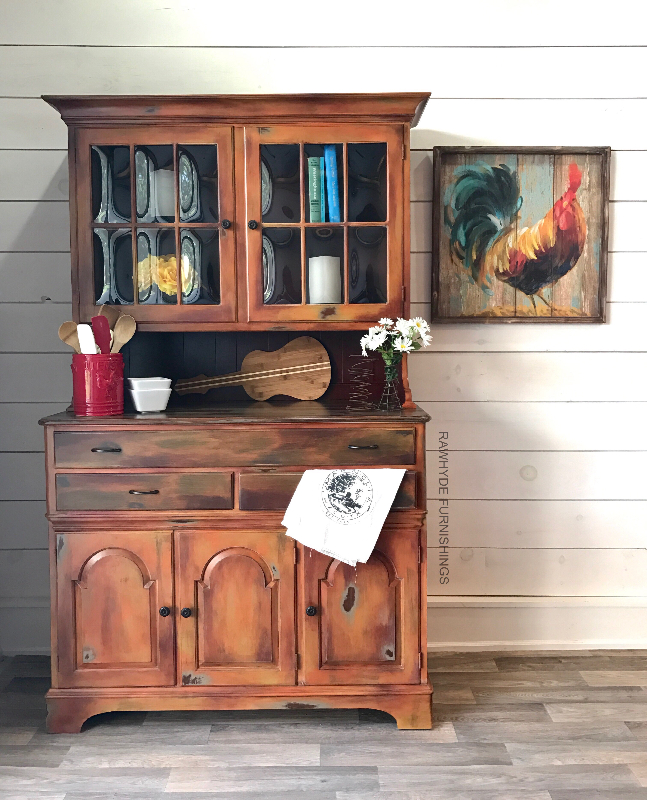 I used a combination of Sherwin Williams colors in Behr paints for this lady (Navel, Obstinate Orange, Knockout Orange). Also, I added in a couple of colors from one of my favorite chalk type paint lines, Basque Green and Repose Gray from Heirloom Traditions, plus Primer Red from Annie Sloan. You may be thinking, "can you mix latex paint and chalk paint??…".
If I read your mind there, here's a secret I learned (better than Plaster of Paris, in my opinion)! There is a bonding agent made by Pixie Dust Paint Company. It's super easy to use and it's available in a powder AND a LIQUID. I simply chose my colors, purchased them from my local hardware store (sample sizes so it was super cheap), and mixed a couple ounces of the liquid Pixie Dust Paint Company bonding agent with my paint colors. Presto! I had paint colors I got to choose from a latex paint line with the bonding and distressing properties of chalk type paint!
(Note: Pixie Dust Paint Company is not paying me to promote their product, I'm simply sharing this tip with my readers!)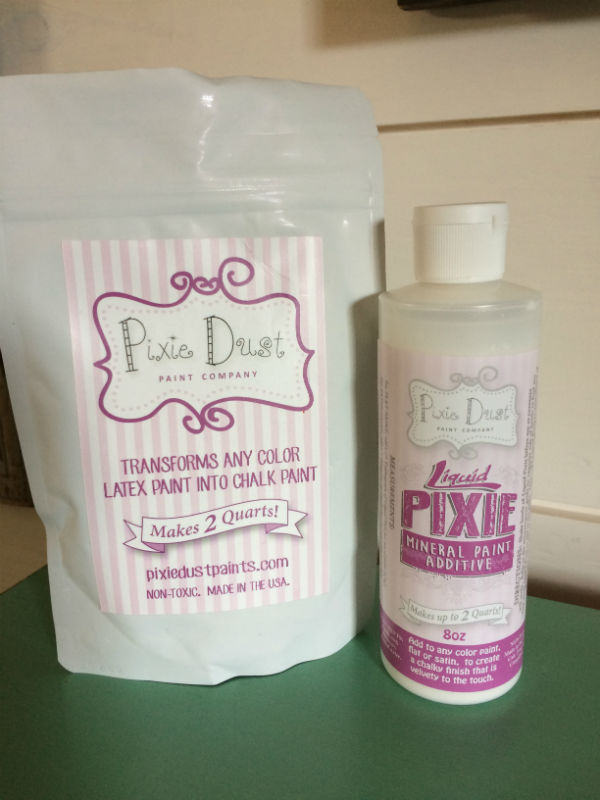 I'll admit that as I was working on this piece I became a little stumped and it definitely had an ugly phase. (Most of my pieces do get ugly before they get pretty.) So I consulted with mentor and interior designer Maria Revollo for some advice. She suggested trying to create some contrast on the top of the base and gave me a few tips. I love the end result of her suggestion so much!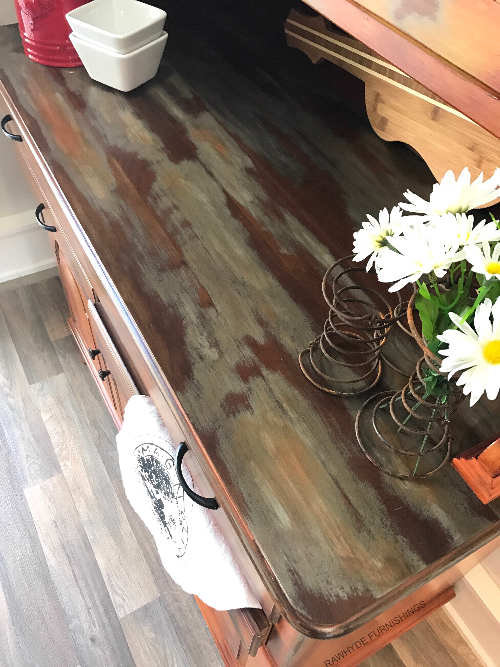 I decided it also needed some heavy distressing in random areas on the rest of the piece and really love how the wood shows through in places. Annie Sloan Dark Wax was added for an antiquing effect.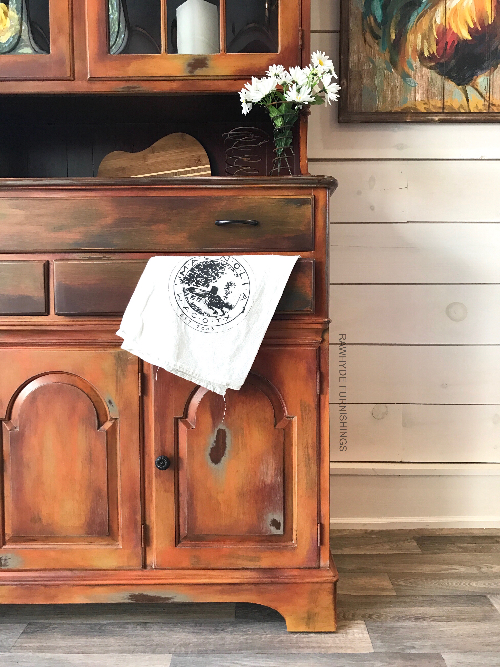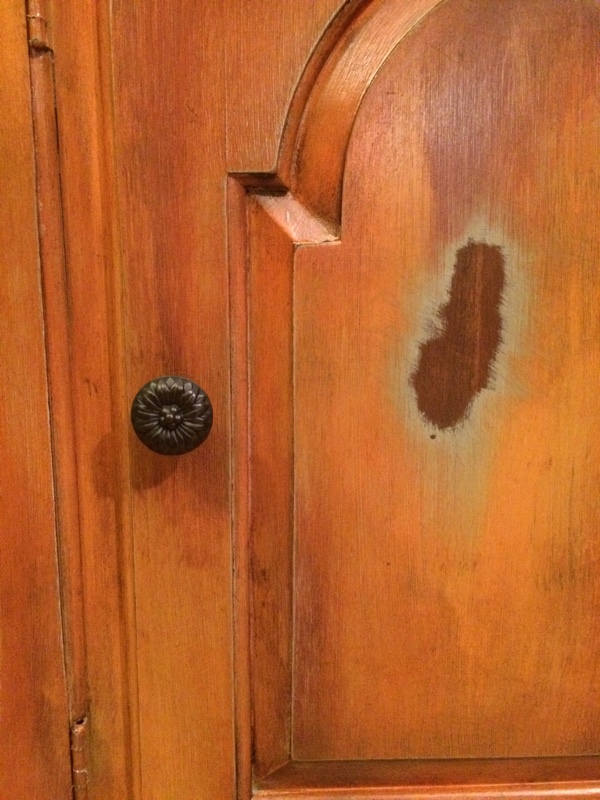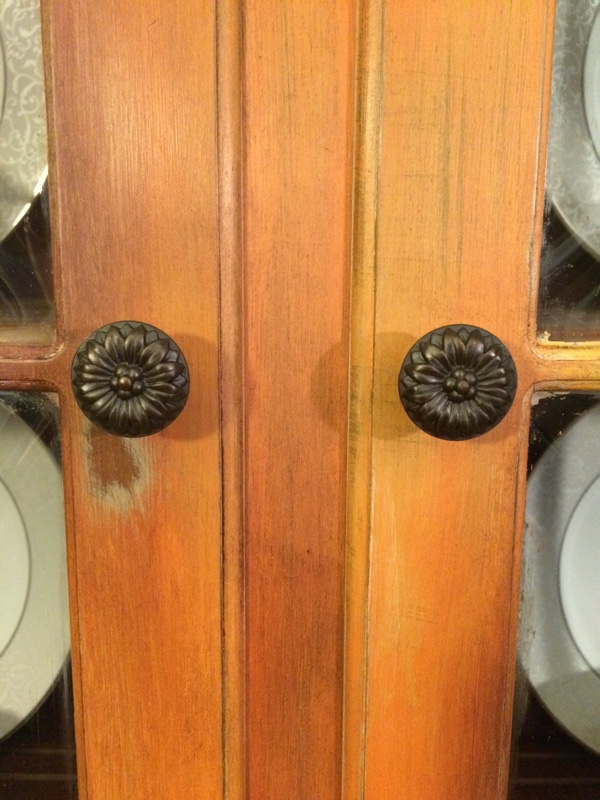 Thanks for stopping by! And here's hoping your holiday planning and entertaining go off without a hitch! 😉
Update: I now use mostly paints from Heirloom Traditions. They have a huge line of colors to choose from and I can find almost any color I need. Check out the line of paints on Amazon here.
Subscribe to my blog here and get my FREE list of my favorite paint products in your inbox, including the Repose paint color I mentioned in this project!

---
---