I was flipping through the October issue of Country Living magazine and they had this amazing feature on black decor. There were items featured all across the board from black soapstone cheese boards, stoneware, etc. to a matte black refrigerator (sexy!) and, of course, matte black furniture.
Note: Links in this post are affiliate links and I receive a small compensation when you purchase product via these 
links. Thank you for supporting my blog!
I happen to already have a matte black piece of furniture I painted for myself and thought I would share with you how I obtained that look.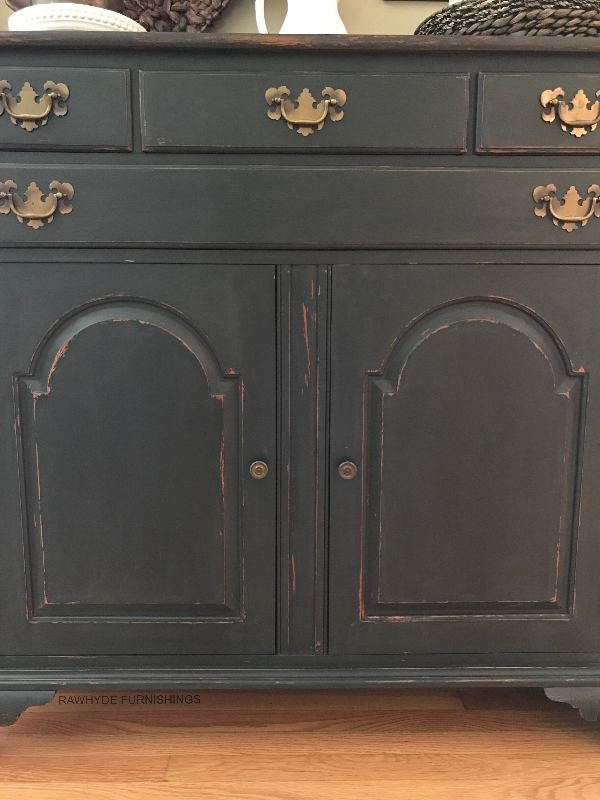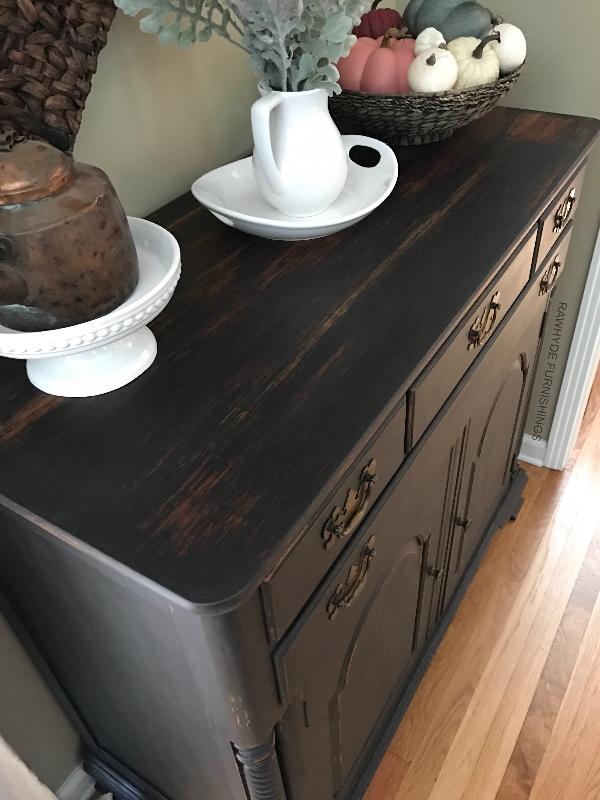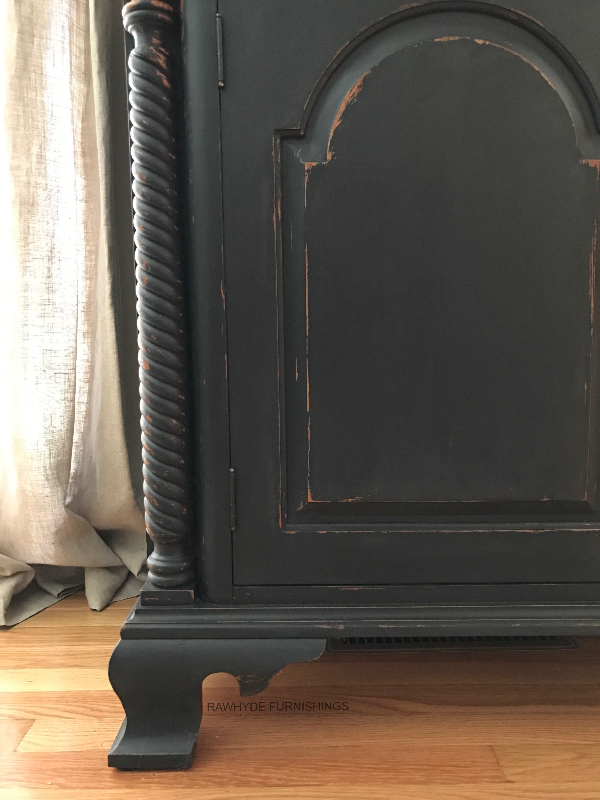 How To Paint Furniture Matte Black
Choose your black paint color. I used Black Bean from Heirloom Traditions. It's a beautiful deep black and will give you a super matte finish. Another favorite of mine is Lamp Black from General Finishes Milk Paint, but even with a flat topcoat (I'll get to that soon) it isn't as matte of a look as the Heirloom Traditions option.
Prep your piece of furniture by washing it well with mild soapy water (Dawn works great) and give it a light sanding with a fine grit sandpaper (or a sanding sponge like these that I like to use) to give the paint something to grip. Note: I even do this when I am using my favorite chalk style paints because it's always a good idea even though you CAN skip this step.
Paint your piece with as many coats as it takes to cover. Typically with a dark color such as black, you won't need more than two coats. You might even be able to get away with one coat depending on the piece of furniture you are painting and the look you are going for.
Distress your piece (optional). My piece is distressed using a damp scotch brite sponge. Let your paint dry (it doesn't take long – maybe 30 minutes to an hour depending upon your climate). Then using light pressure take a damp sponge or cloth and gently rub the areas where you want to remove the paint. It's important to start with light pressure until you get a feel for how much paint will be removed. You can always apply more pressure if you want to remove more paint.
Apply a matte topcoat. This is the key to getting that durable matte finish. Many chalk style paint brands will suggest finishing your paint with wax. If you follow my blog you know I swore off wax finishes a while back. (Read more about that here.) Never fear, though! I have found a topcoat that gives you that super matte wax-looking finish without the aforementioned issues. General Finishes Flat Out Flat topcoat is my go-to matte finish and that is what I used on this piece. Just apply like you would any polycrylic topcoat with a foam brush. You'll need two to three coats, and wha-la! You have a beautiful matte black beauty to enjoy in your home!
Here Is How I Got That Heavy Distressed Look On Top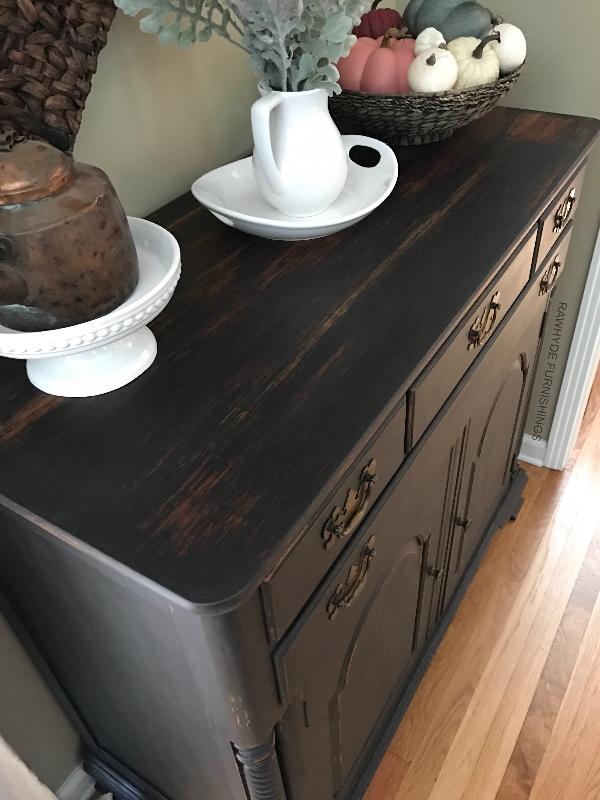 I wanted the top of my piece to have some contrast to the bottom, but I didn't want to stain it, and the original cherry wood color is not the look I wanted. So I kind of made a "stain" out of the same paint I used for the base of the piece.
Pour some of the paint into a separate container.
In another container you'll need some water.
Dip your paint brush in the water, then in the paint. Apply the paint to the piece of furniture. It should go on much thinner than it did on the base of the piece. You can also take a dry paper towel or cloth and wipe back any paint where you feel there is too much. Continue dipping the brush in the water before dipping into the paint each time you load your brush.
Let it dry and apply your matte topcoat.
This is really a play-around-until-it-looks-the-way-you-want-it technique. You know, kind of like when you ask your grandmother for her secret recipe for her famous coconut creme pie and her response is "Honey, I don't have a recipe. I just combine the ingredients and mix it until it looks right." Ha! Likewise, there is no specific "recipe" for this look. Just play around and have fun! You might be amazed at what you can do when you just let your inhibitions go and try it!
I would love for you to share pics with me of your new matte black piece if you create one!
Subscribe to my blog here and get my FREE list of my favorite paint products in your inbox, including the Black Bean paint color I mentioned in this project!

Pin this to save it for later!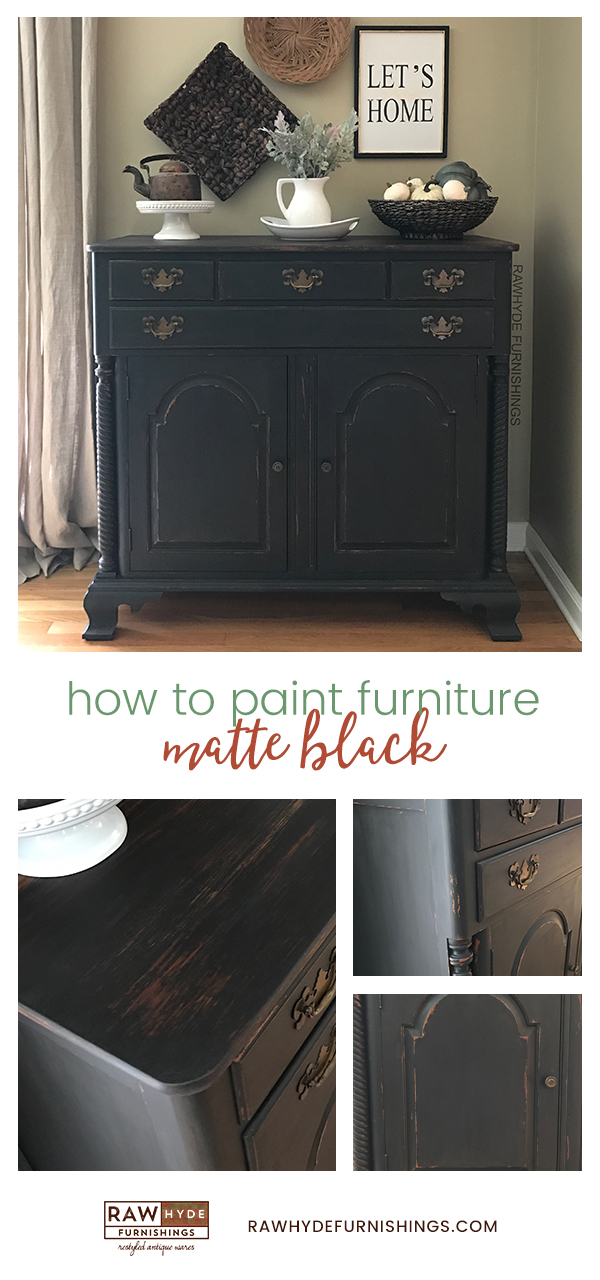 ---
---