Every year I get super excited about planning the new year and new goals. (Anybody else get excited?!) So I want to share with you my planner recommendation for 2018! The planner I ordered just arrived in the mail and I thought it might be helpful to show you what's inside in case you are trying to decide what planner would work best for you in the new year.
Paper Vs. Digital
I love using a paper planner as opposed to a digital app on my phone. The calendar app on my phone is super handy for keeping all of my appointments. BUT I am totally a list maker and I like to write down my list and then feel like I am making progress when I mark those things off my to-do list.
Note: Some links in this post are affiliate links and I receive a small compensation when you purchase product via these 
links. Even though I may be compensated, all opinions are my own. Thank you for supporting my blog!
My Planner Recommendation
The day planner I ordered is from Day Designer and I can't wait to start filling it up and using it! First of all, can we just take a minute to admire the beautiful cover on this planner? Sigh.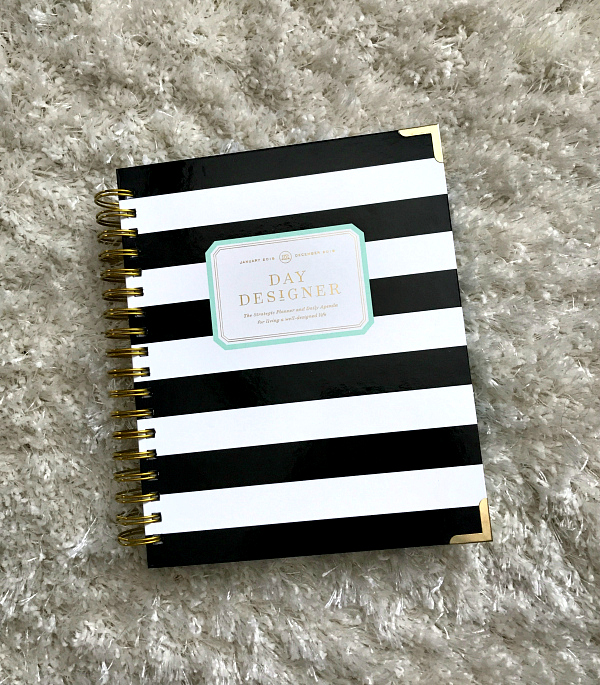 It's just so pretty and classic! And I find that if I like the way my planner looks, it somehow inspires me to enjoy using it in my everyday life.
Day Designer has a few other cover designs to choose from as well.
LOVE the pocket on the inside front cover for loose notes, receipts, etc.!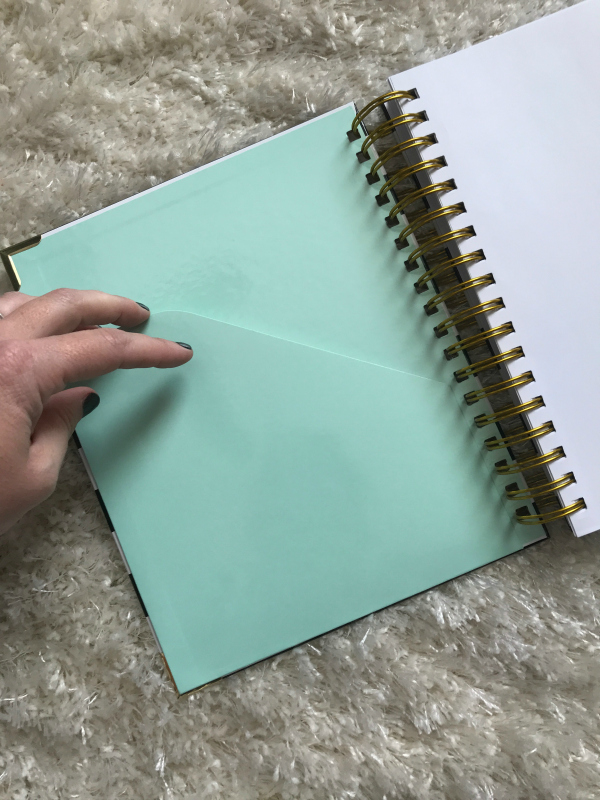 Speaking of goals – this planner has a place where you can put them in writing! So smart. From short-term to long-term goals, this page is a great way to get started making those goals a reality.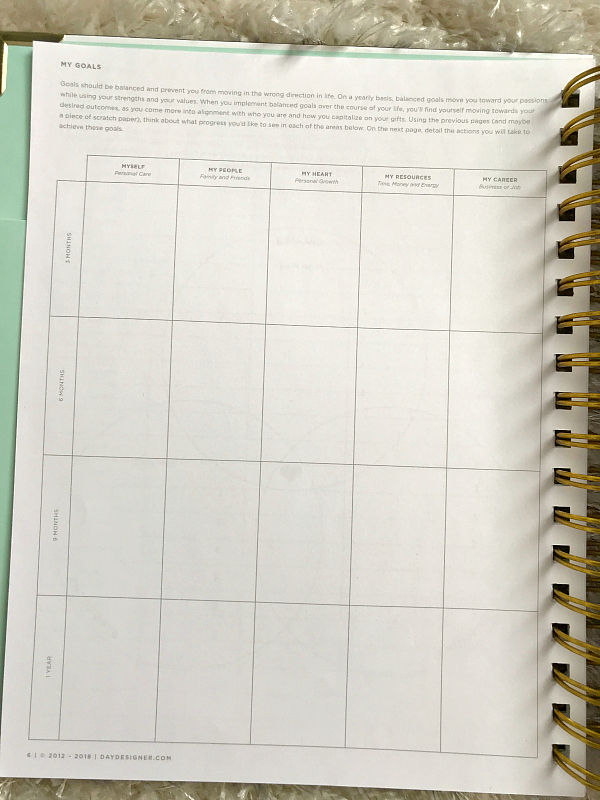 And directly across from that page, commit to taking action toward those goals! Have you ever broken down your goals in this way? With monthly, weekly, and daily action steps plotted out we are bound to make those goals a reality! Love this section in my planner.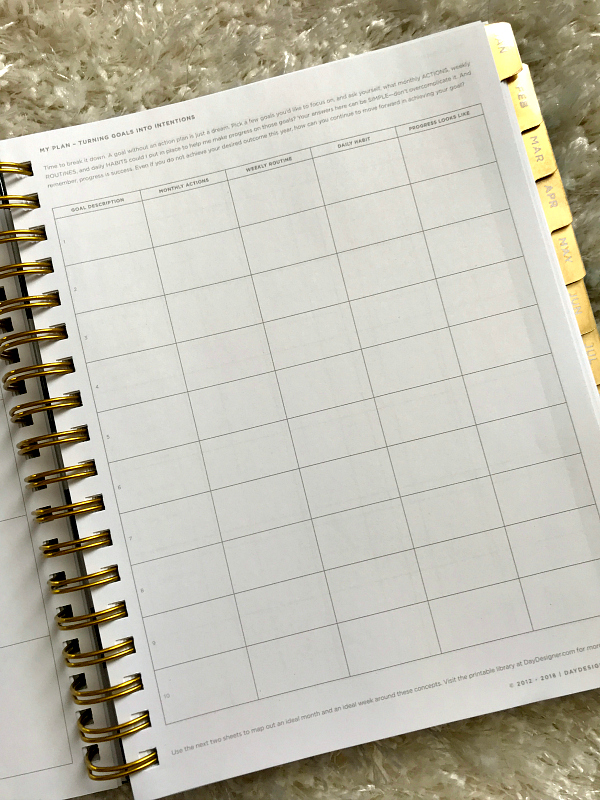 And here are the meat and potatoes of this Day Designer planner – the monthly and weekly layouts. I have to have the month-at-a-glance. It's just helpful to be able to see the entire month. Also, I like to go through the entire year and write in birthdays and events that I already know are coming.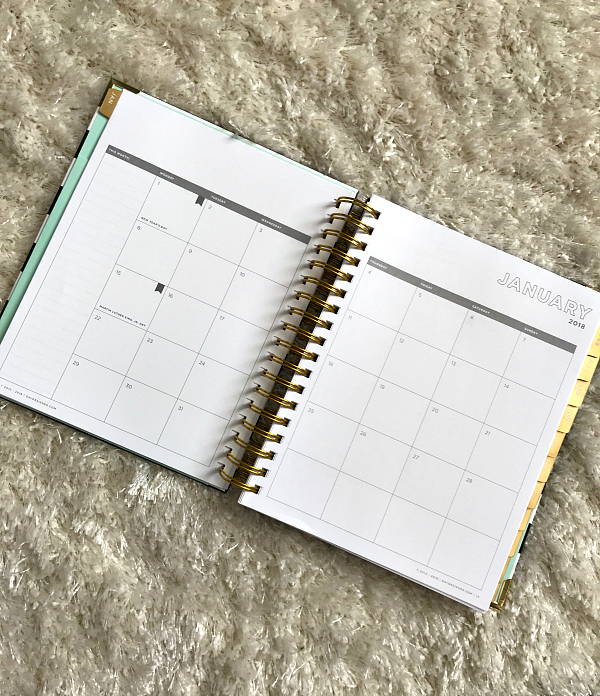 My absolute FAVORITE thing about this planner is the daily pages. So. Much. Space. For writing my to-do tasks! I was always running out of space in my old planner so I am super stoked about this new layout in my planner for 2018. There is also a section at the top where you can prioritize the top three things you HAVE to accomplish that day. I love this because then your MUST-DO tasks don't get lost in the long list of other stuff on that day that can maybe wait until tomorrow.
Also, there is an entire column with the hours of the day plotted out in case you want to use that space for writing in appointments for your day.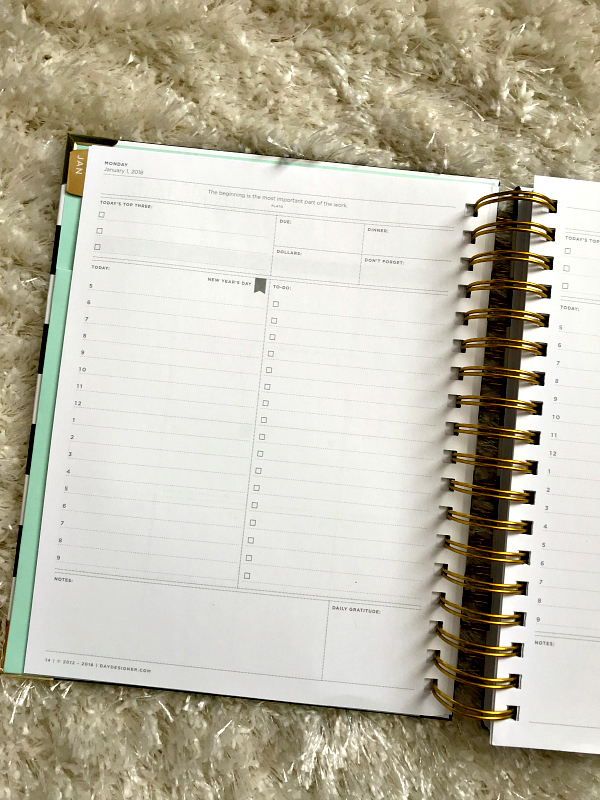 Love that it has a space to write-in what your dinner plan is for that day too. Bonus!
Another really genius feature in this planner is the weekend page. At the bottom of this page you have your next week at a glance. So you can jot down things that come up for the following week before moving on to that week in the planner, such as ideas that come up for your next blog or social media posts.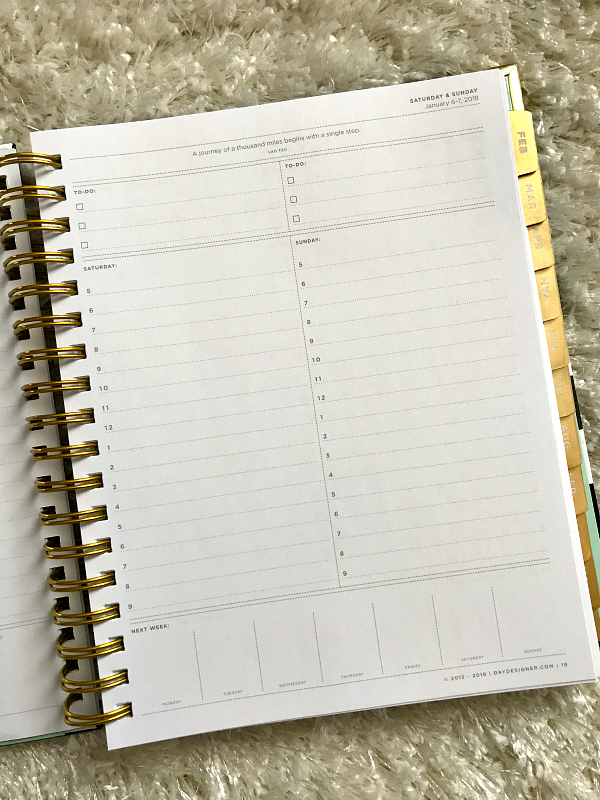 I hope this planner recommendation was helpful. Can't wait to get started making plans and keeping it all organized with my new tool.
If you want to check out the Day Designer planner options for yourself, click here.
Happy planning for 2018!
Subscribe to my blog here and get my FREE list of my favorite paint products for furniture in your inbox!

Pin this to save it!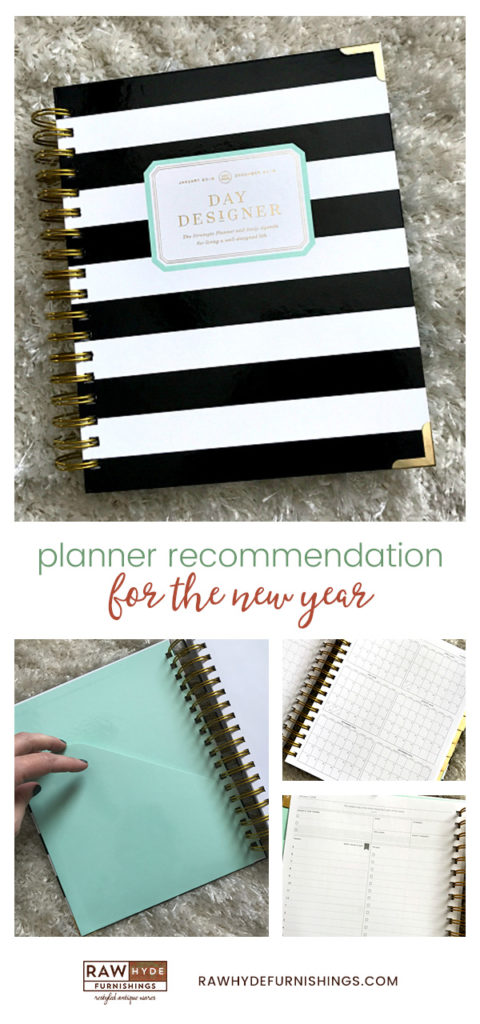 ---
---