Are you looking for a solution to those pesky pink, brown, and yellow stains bleeding through your painted furniture finish? If so, you've come to the right place.
STAINS BLEEDING THROUGH PAINT:
Bleed-through. It's like the longest four letter word ever if you are a furniture painter.
You find the greatest piece of furniture that just needs a quick makeover with a couple coats of paint. You plan out the design for said piece of furniture and begin imagining what it will look like when you're finished. You clean it up and finally get to the part where you can begin the transformation, your first coat of paint.
But, ugh, why are there pink and brown or yellow spots bleeding through the paint?? I'm sure the second coat of paint will cover it up. No big deal. Second coat, STILL THERE! Certainly it just needs a third coat of paint, then it will be good. By the time you paint the third coat and you still see pink, brown, or yellow, you're beyond frustrated and probably ready to give up thinking about all the time you've spent and paint you've wasted. Or, even more frustrating, all seems well through all your coats of paint until you apply your topcoat, and THEN the bleed-through appears. Ugh!
Fortunately, there is an easy solution and even some tips I can share that might help you recognize this problem BEFORE it occurs on your next painting project.
Note: Links in this post are affiliate links and I receive a small compensation when you purchase product via these 
links. Thank you for supporting my blog!
THE SOLUTION:
Your furniture needs to be sealed with Shellac
. One coat (or maybe two) of Shellac will seal in whatever is causing the bleed-through and allow you to paint your beautifully thought out design on your piece of furniture. Just get a good thick bristle brush and apply a thin coat of the Shellac. (I wrote "shellac" on the handle of the brush I use for this, it will become stiff and you probably won't be able to wash it well enough to use it for other purposes. But the next time you dip it in Shellac, it will soften up just enough to allow you to apply an even coat with your stiff brush). Let it dry and then carry on with your painting.
If you have already applied a few coats of paint, not to worry. Just apply the Shellac over the paint and apply another coat or two of paint over the Shellac. Be sure you apply the Shellac to the entire piece and not just to the affected area where you see spots bleeding through. The paint adheres a little differently to the areas where the Shellac is applied. Applying the Shellac to the entire piece will give your next coat of paint a uniform appearance, WITHOUT bleed-through.
Update: I have found that applying the Shellac with a foam brush is easier and cheaper. You can just throw the foam brush away after one use.
THE CAUSE(S) – yes, there are multiple possibilities:
Certain woods are just troublesome to paint. Among them – oak, mahogany, and pine. Mahogany will bleed through your chalk paint with hints of pink; oak will sometimes make your paint look like it has a hint of yellow (really troublesome if you are painting the piece white); and pine with its knots just refuses to be covered well with chalk paint alone. Think of Shellac as your primer in cases when you are working with these woods. Trust me, it will save you a lot of time and money.
Furniture that lived in the home of a smoker will absorb smoke over the years and cause a yellowish bleed-through when painted. If you thrifted your furniture from a flea market, salvage yard, estate sale, etc., don't be surprised if you see stains being pulled out of the wood when you begin painting.
Years of furniture polish use can cause a piece of furniture to have a greasy feel and bleed-through when painted. If your furniture feels greasy to the touch, before you do anything else wipe down the furniture with mineral spirits. This should eliminate the surface oils. Then, you guessed it, Shellac. This will prevent any oils deep in the wood grain from finding their way out and in the midst of your beautiful paint job.
I'm sure there are other causes for bleed-through I'm not mentioning, but these are the ones I've experienced personally. Sometimes you can't tell that you may have a problem until you apply that first coat of paint. Just trust your gut when you begin to see anything bleeding through and stop the paint brush! Grab your Shellac. Then carry on. You will be glad you did.
Update: Spraying Kilz primer on your piece prior to painting will also help to stop any stains from bleeding through. I like to use this rather than Shellac if I am painting a piece white. It also helps me to use fewer coats of white paint, which can sometimes take 3-4 coats for full coverage. 
Do you have questions about a project on which you've experienced bleed-through? Or maybe something to add to what I've described above? Leave a comment below with any thoughts. I would love to hear from you!
Subscribe to my blog here and get my FREE list of my favorite paint products for furniture in your inbox!

Pin this to save it for later!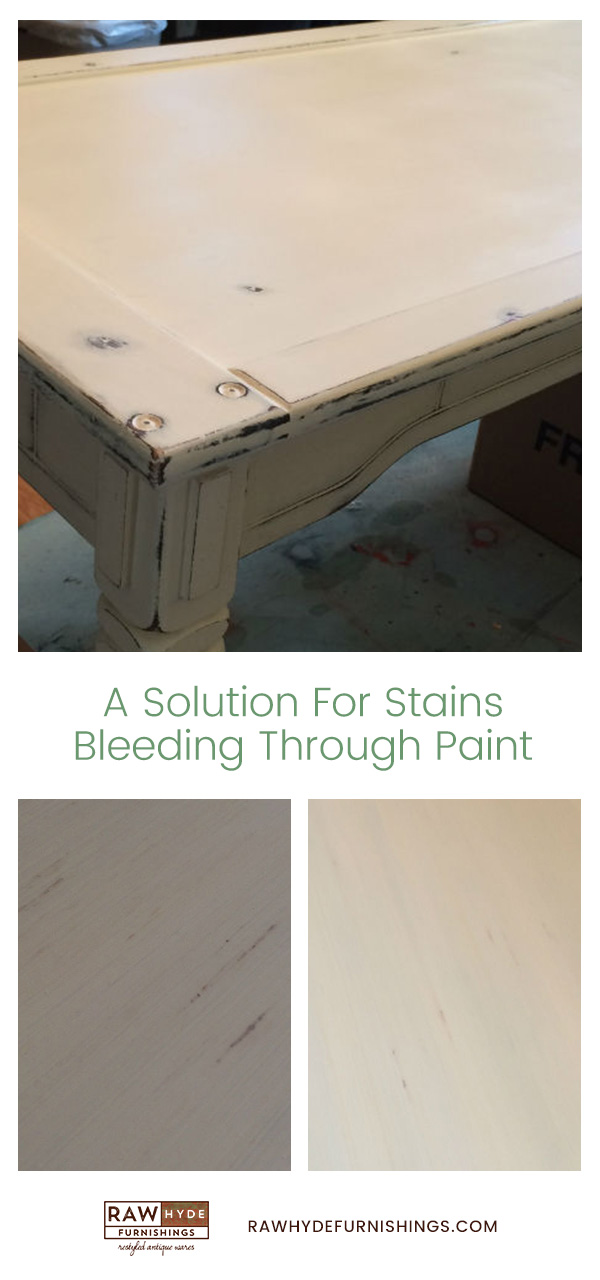 ---
---