It is the time of year when we start to think about what great gifts we can give to our loved ones. I don't know about you, but I get super excited about gift giving when I look at the new Target line Hearth & Hand from Chip & Joanna Gaines! There are so many great items in this line! (Are you surprised? I mean, it's Joanna Gaines!) Below is my list of gift ideas from the new line – all under $35! (You may want to also forward this blog to your loved ones for gift ideas for YOU! ;))
All images came directly from target.com. Click on the image or link below it to go directly to the item.
Note: Some links in this post are affiliate links and I receive a small compensation when you purchase product via these 
links. Thank you for supporting my blog!
Hearth & Hand Gift Ideas All Under $35!
Did you know matte black accents are a hot trend in home decor currently? This black stainless steel flatware would look amazing in your holiday place settings!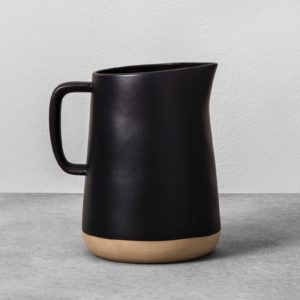 Black Stoneware Pitcher $19.99
I could have included all the amazing matte black pieces from the kitchen & dining collection, but it honestly would have to be a completely separate blog. Trust me when I say you are going to want to see ALL of it.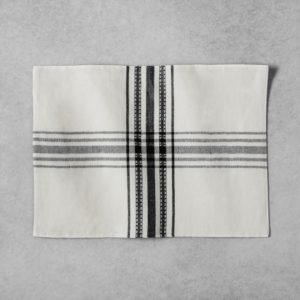 Woven Plaid Placemat – Black/Cream $4.99
Another beautiful item to add to your holiday or everyday place settings. I love how simple and classic everything is in this entire Hearth & Hand line.
Smoke Glass Jug Vase $16.99-$29.99
These smoke glass jugs are so versatile! Three sizes available, sold separately.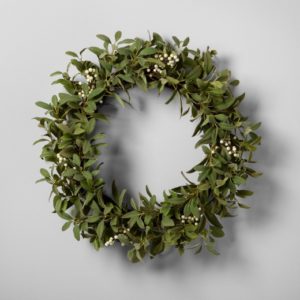 Artificial Lamb Ear & White Berry Wreath (24″) $34.99
See? Told you. Simple and classic. I love this!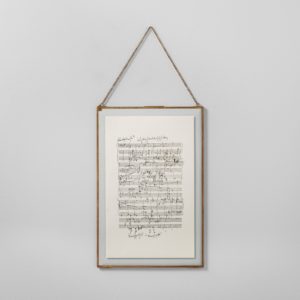 Music Notes Framed Wall Art (12″x18″) $19.99
What a unique gift idea for someone who loves music or even just unique wall art! The brass frame is such a great way to add some brass accents to your home decor. Yes, brass is back! And it's so great in small touches like this one.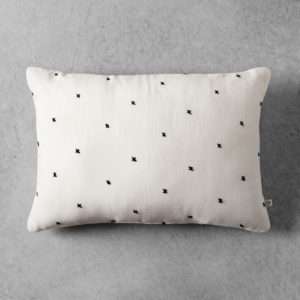 Embroidered X Pattern Throw Pillow (14″x20″) $24.99
Another great example of simple and classic. This would be so cute added in with holiday decor, but could also extend through any season of decor in your home.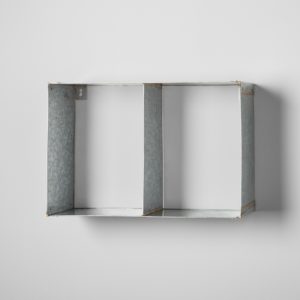 Galvanized Metal Wall Shelf $29.99
Moving on to the amazing galvanized options in this line! I NEED this wall shelf in my life. No, seriously. I've honestly been looking for some sort of galvanized shelf to hang in my dining room opposite Cogburn the rooster (named by my Facebook followers) from Hobby Lobby. This might be perfect. Target, just take my money already!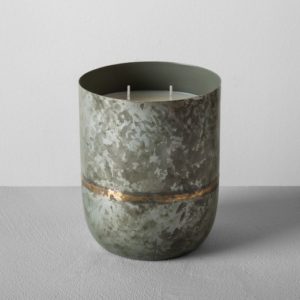 Galvanized Container Candle 25 oz $19.99
I'm a little picky when it comes to scents of candles. But the names of these are promising so I can't wait to check them out. Plus, I could almost buy one JUST for the cute galvanized container and throw it in for looks!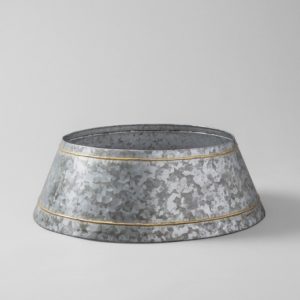 Galvanized Metal Tree Collar $34.99
Ok, this is just genius. How many of you have seen Christmas trees sitting in a galvanized bucket for the base? I have been doing that for the last couple of years and I will tell you that it was difficult to find a bucket large enough for my tree. And also, because the bucket is so large, it's also very deep. I actually have to go hunting around the house for my biggest, thickest books to place in the bottom and prop up the tree so the bottom branches can lay flat. Ha ha! This could save my books this year!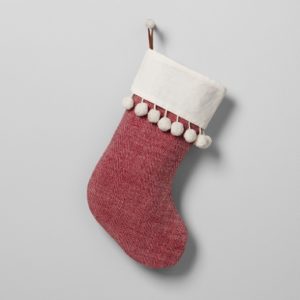 Pompom Holiday Stocking $12.99
Adorable. That is all. Those pompoms! Be still my heart.
Give your gift in this stylish plaid gift bag. There are a few other sizes, colors, and patterns of these and they are all super cute.
Who couldn't use a nice tote bag?! This is such a great gift idea and so affordable! Perfect for your carry-on for a plane trip or just carrying your basic needs for work every day. Workout clothes, laptop, water bottle…
My husband and I have gifted wine on several occasions. I absolutely LOVE the look of this wine bag for a nice gift packaging for TWO bottles of wine. They also suggest using it in your home when you are entertaining. Strap it over your shoulder and carry around the wine to refill your guests glasses!
This one MIGHT be my favorite. Because every year when I was a kid, my parents would let us open one gift the night before Christmas. It was always new pajamas and we knew that, but it was still so exciting every year. And matching pajamas are just the best. How sweet would this make your Christmas morning photos?!
More Gift Ideas
Here are a few other gift ideas related to our friends Chip and Jojo. I have read The Magnolia Story and it will inspire your socks off. Plus, you get the scoop on how the boy got the girl and it's probably not the story you expect. The book was a Christmas gift to me last year, and probably one of my favorite gifts I received.
The Magnolia Story
Capital Gaines: Smart Things I Learned Doing Stupid Stuff
The Magnolia Table – Pre-order of new book from Joanna Gaines
The Magnolia Journal Magazine Subscription
Coffee Mug – Joanna Gaines Is My Spirit Animal
Subscribe to my blog here and get my FREE list of my favorite paint products for furniture in your inbox!

Pin this so you can refer to it later!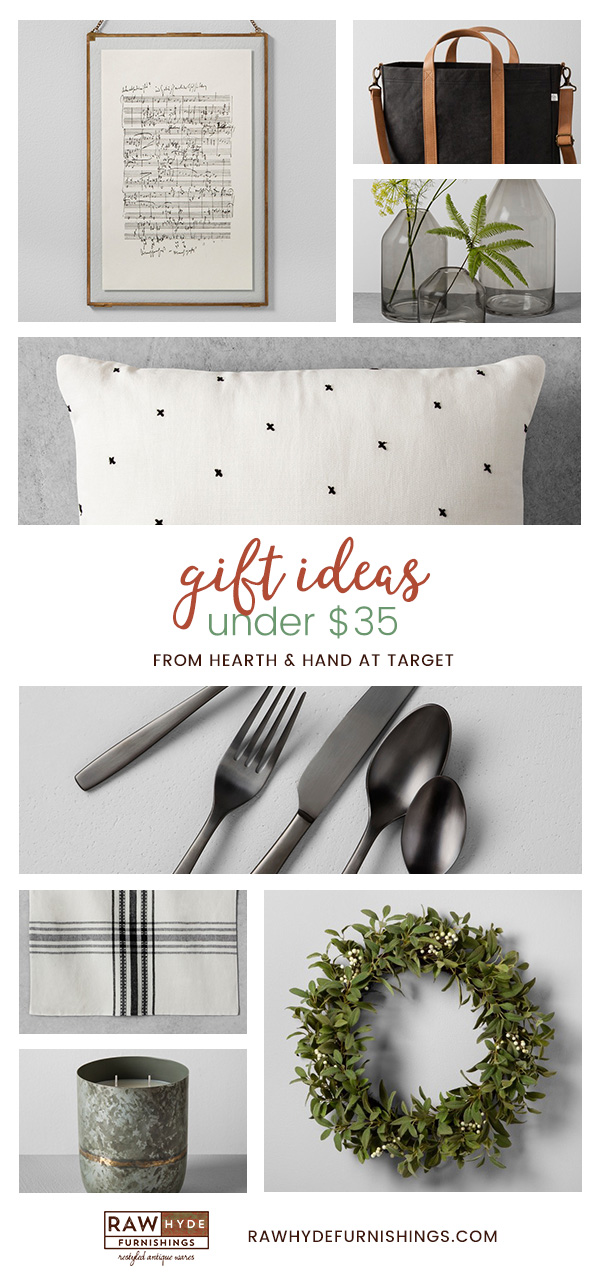 ---
---